Why Zug?
When two Jews connect through our shared tradition, the relationship has the power to cultivate meaning, joy, and belonging.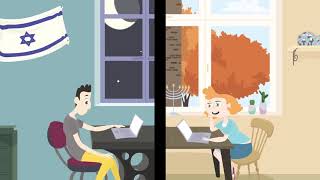 Explore easy-to-follow and engaging courses with outstanding teachers
Connect your community through a partnership with Project Zug
How it Works
Sign Up
Tell us about yourself and what you are looking for in a learning partner.
Pick a Course
Study with an inspiring teacher. Delve deeply into a familiar topic or explore something totally new.
Meet Your Havruta
Connect with your partner "face-to-face" through your preferred video-chat technology
Learn Together
Use our online platform to explore your topic through texts, guiding questions, and short videos.
Frequently Asked Questions
Do I need to be a computer genius to participate?
Nope, participants do need access to a reliable and strong internet connection and a computer with capacity for video-conferencing. What you do need is a desire to connect, learn, laugh, and grow.
What does "zug" mean?
Zug is Hebrew for partner. A learning partner is called a Havruta. Learning online with a great havruta? That's called Project Zug!
When do we meet?
Each Zug/pair will schedule their online video conversation at a time convenient to their schedules. It will be challenging with the time difference, but it is doable!
How much does it cost to participate in Project Zug?
Project Zug participants pay a sliding rate of $36-$180, on a pay-what-you-want scale per course. If cost is a barrier, please let us know. If you would like to sign up a group, please contact us for special group rates.