Why Zug?
When two Jews connect through our shared tradition, the relationship has the power to cultivate meaning, joy, and belonging.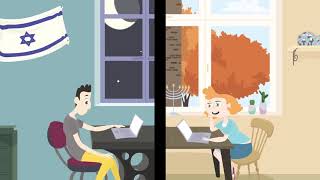 Explore easy-to-follow and engaging courses with outstanding teachers
Connect your community through a partnership with Project Zug
How it Works
Sign Up
Tell us about yourself and what you are looking for in a learning partner.
Pick a Course
Study with an inspiring teacher. Delve deeply into a familiar topic or explore something totally new.
Meet Your Havruta
Connect with your partner "face-to-face" through your preferred video-chat technology
Learn Together
Use our online platform to explore your topic through texts, guiding questions, and short videos.
Frequently Asked Questions
What does "zug" mean?
"Zug" is Hebrew for partner. A learning partner is called a "havruta". Learning online with a great havruta? That's called Project Zug!
How will I be paired?
You'll be matched with a havruta based on information you provide in your registration such as: course preference, preferences for a learning partner, your bio, and more. Our team works hard to individually match you with someone who will be a great fit!
Can I sign up with my own havruta?
Absolutely! Make sure you both register and "request" each other as your havruta during the registration process.
When do we meet?
You and your havruta will schedule your online video conversations at a time convenient to your schedules. The timing is completely up to you!
How long do we meet, and how?
We suggest planning for 30-45 minutes or so each week, using the video chat platform of your choice. Zoom, Google Hangouts, FaceTime, and Skype are all great options.
Do I need to be a computer genius to participate?
Not at all. All you need is access to a reliable and strong internet connection and a computer with capacity for video-conferencing, along with a desire to connect, learn, laugh, and grow. And if you and your learning partner happen to be local, you can choose to learn in person! You will be able to access your course materials easily through either the weekly course emails or directly from our website.
Is there a lot of reading?
Each week you will receive a simple document with a few selections of text and guiding questions. We make sure to keep our source sheets as accessible as possible, so that you can learn in your meetings with your havruta without having to do any prep work or planning.
Do I need to know Hebrew?
Absolutely not! Any texts that are provided in Hebrew will also be provided in English translation.
Do we have to stick to the questions?
Not at all! The source sheet format is the jumping off point for connecting. There is much to bring into the conversation from your own lives, current events, and more.
How will I know what to look for or if I'm on the right track?
If you're following the materials, answering the guiding questions, and having good conversations with your havruta, you are definitely on the right track! The videos from the course educator can also provide framing that might point you in the right direction if you're feeling unsure. If you have any questions, you can join in the conversation in the online forum to share what you are learning and engage with others who are also taking your course.
How are the courses structured?
Each course is structured into 10 or 4 pdf handouts, along with 4 short videos from the educator. You do not need to do any preparation - you and your havruta will go through the source materials together when you meet, respond to the questions provided, and ask your own questions based on the material. The short videos from the educator are there to provide additional framing and an opportunity to hear from the educator in their own voice. In a 10 session course, there are videos before sessions 1, 4, 7, and 10, to introduce each unit of the course, and in a 4 session course, there are videos before each session. You can watch these before you meet with your havruta, or you can choose to watch them together.
What is my relationship with the course educator?
While there is no live interaction with the educator in a typical course, there are short videos throughout your learning to help guide you and help you get to know them. The actual learning happens between you and your havruta! We also invite you to take advantage of the "forum", a resource on the website for you to ask clarifying questions and engage with others taking the same course as you.
How do I register for Zug?
Registering for Project Zug is a two-stage process. First, we ask that you create a user account. Then, you can sign up for a specific learning cycle and choose your course preferences. We've laid out more detailed instructions here.
What is a "Learning Cycle", and when do I sign up?
Project Zug offers multiple opportunities to learn throughout the year, which we call "learning cycles." Each learning cycle starts with an open registration period, which is when you will sign up. Once registration closes, we spend about a week matching everyone up with their havruta and courses. Then, when we're done matching, we'll send you an email introducing you to your havruta and your course materials. After that, it's up to you to get started!
How much does it cost to participate in Project Zug?
Project Zug participants pay a sliding rate of $36-$180, on a pay-what-you-want scale per course. If cost is a barrier to your participation, please let us know. If you would like to sign up a group from a synagogue, school, Hillel, or other organization, please contact us about group rates and the option to become an official Partner.
How do I know which course to choose?
Take a look at our course listing page to see all of our 30+ courses. Are there any topics that look especially intriguing to you? Educators you're excited to learn from? Click through the titles to explore course descriptions and watch video trailers, so you can get a sense of what piques your interest. And if you'd like a little more direction, check out our "Guide to choosing the right course". There is no right answer, and we are confident you will enjoy whichever course you choose!
Can I take more than one course at a time?
It is possible, but we don't typically recommend it. Remember that you are accountable to learning each week with your assigned havruta. Many of our users who have tried have found that balancing more than one course per cycle is not always possible or successful. And you can always sign up for a new course during the next learning cycle!
Do I need to be Jewish to participate in Project Zug?
Not necessarily! We welcome non-Jewish participants in many circumstances. Please reach out to info@projectzug.org before signing up so that we can work together to find the right fit for you.